Certified ScrumMaster Training
Do you want to be a Certified ScrumMaster?
Get trained by Ken Rubin, the person who wrote THE BOOK on Scrum.

You know, the Amazon #1 Best Seller
Essential Scrum that you've probably seen on peoples' desks as their "go to" reference for Scrum knowledge.
The book that's available in 10 languages.
Ken's classes closely align with the content of Essential Scrum, so the book is a great post-class complement to the hands-on class learning.
---
Ken's Certified ScrumMaster class uses graphically rich and visually appealing 3D images to communicate agile and Scrum concepts. For example, here is an image of the Scrum framework.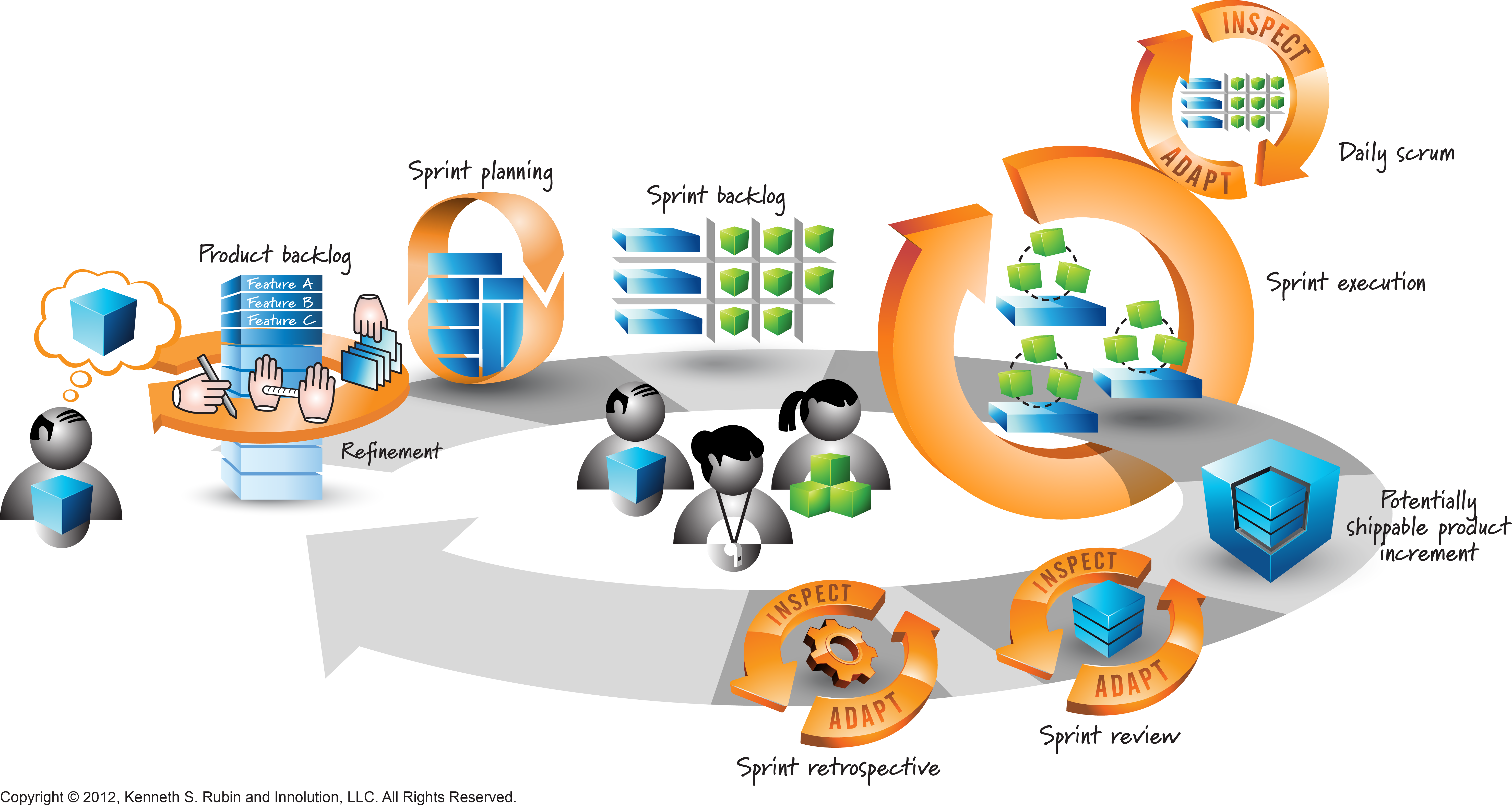 If you want to see the full collection of these vibrant images, you can find them at the Innolution website.
---
And with Ken as your instructor, you get someone who is not only an expert trainer, but also someone who has been in the trenches guiding large organizations with their agile journeys.
Check out some facts about Ken
| Attribute | Number |
| --- | --- |
| Technical and Business People Trained | > 31,000 |
| Companies coached (Fortune 10 to startup) | > 200 |
| Years involved with Agile (originally the Smalltalk Community) | > 30 |
| Year of 1st Scrum implementation (Genomica Corp) | 2000 |
| Successful Enterprise Agile Transformations Personally Lead | > 10 |
| Largest number of teams involves in an agile transformation | > 1100 |
| Largest single agile project in terms of people | > 2500 |
Ken was also the first Managing Director of the Scrum Alliance.
---
sampling of the companies Ken has trained and coached
What students are saying
I generally don't give out all high marks - the class was outstanding. Best class I have ever attended.
— Eric Sritalsti, McKesson
Extremely useful and relevant. Ken was very good at addressing questions and explaining the reasoning behind Scrum.
— Michael Reynolds, Ellucian
Ken is very knowledgeable on the subject matter with the practical experience to back it up. Well done!
— George Plowman, Rockwell Automation
---
Special Bonus
As a special bonus, students who attend this live virtual training get a free license to Ken's on-line video training course "Learn Scrum the Visual Way." This class provides an end-end overview of the Scrum Framework in a visually appealing way using the images from Ken's Essential Scrum book. There are 22 video lessons (each a few minutes long) as well as quizzes to reinforce your knowledge. There is also audio versions of each lesson as well as text transcripts. And, there are PDF bonus materials for each lesson. This is an $89 value included free with your registration in Ken's Certified ScrumMaster class.
---
Certification
You will be attending a Scrum Alliance approved certification class. Two of the requirements for becoming certified are to attend and to participate. So, please make sure that you are present for all in-classroom sessions and that you are engaged in the discussions.
This class includes the fee for the Certified Scrum Master exam and a two year membership with the Scrum Alliance upon passing.
---
PDU and SEU Credit
This course earns 16 PMI PDUs. It also earns 16 SEUs of the 70 needed for the Certified Scrum Professional (CSP) certification.
Additionally, if you currently hold an active CSM certification with the Scrum Alliance, attending this course will automatically extend your existing certification for two years (and you do not need to retake the CSM exam).
---
Logistics
This class is a two-day live instructor-led online training. We will start each day at 8am MST and end at 4pm MST. We will take one hour for lunch both days from 11am to noon MST. There will also be breaks taken during the day.
---
Tools
We will use two tools during the class.
| | | |
| --- | --- | --- |
| Tool | Purpose | Tech Requirements |
| | Remote video meeting. We use Zoom breakout rooms for team-based exercises. | Zoom App downloaded on your computer. Zoom in a browser does not support "breakout rooms," which we will use for team exercises. |
| | Collaborative shared canvas for team-based exercises. | MURAL is a HTML5 web application and works best with Chrome, but also supports Edge, Firefox and Safari. |
---



Discounts
In addition to our Early Enrollment discount, we offer discounts when multiple seats are purchased at the same time. Please contact us for details.
---
Cancellation Policy
If you cancel or reschedule more than 7 days before the first day of the class you will receive a full refund. If you cancel or reschedule within 7 days of the first day of class, a 50% fee will be charged, and the remaining 50% can be used as a credit toward a class to be taken within 6 months from the date of the canceled class. Refunds or credits will not be issued for no shows, partial attendance or cancellations within 24 hours.
---
Agenda
The CSM course includes the following topics:
| | |
| --- | --- |
| | Agile Principles |
| | Scrum Overview |
| | Product Backlog and Product Backlog Items |
| | ScrumMaster Role |
| | Product Owner and Development Team |
| | Feature vs. Component Teams |
| | ScrumMaster and Technical Debt |
| | Sprints |
| | Sprint Planning |
| | Sprint Execution |
| | Potentially Shippable Product Increment |
| | Inspect and Adapt Activities |
| | Velocity and Planning |
| | Estimating Product Backlog Items |
---
Who Should Attend
There are no pre-requisites for this class. And, you don't need to be a ScrumMaster to attend this Certified ScrumMaster training! This class is appropriate for both software and non-software professionals.

If you are working in a company that is adopting Scrum, and you are interested in understanding the foundational agile principles and their application in a Scrum environment, you should take this class.
In many companies, the CSM class is the go-to training for all managers, development team members, and often the business partners aligned with the Scrum teams. Traditional roles that frequently attend include:
ScrumMasters
Developers
Architects
Analysts
Technical Writers
QA professionals
Operations professionals
Design and User Experience professionals
Functional (Technical) Managers
Project Managers
Program Managers
CIOs
Sales professionals
Risk and compliance
HR professionals